Home
Talk

0
87pages on
this wiki

"Greg Weisman really 'gets' the deep-seated emotional angst of teenagers, and he's an expert at creating complex stories filled with intrigue, mystery, drama, fantasy, adventure, you name it - always with just enough comedy peppered throughout. From his work on DC's cartoon 'Young Justice' to his first novel, 'Rain of the Ghosts,' he hits it out of the park every time!"
— Danica McKellar
"On a haunted isle in the mysterious Caribbean, a 13-year-old girl discovers her magical heritage! It's the perfect book for the young adult reader."
— Stan Lee
"RAIN OF THE GHOSTS is quirky, clever and downright creepy. A thoroughly entertaining joyride into the world of the fantastic."
— Jonathan Maberry
"All of the excitement and hyperbole of teen emotion is captured in this quick-moving debut. Filled with adventure, ghosts, and mystery, this book shouts to be read."
— Shannon Delany
"I read and thoroughly enjoyed Rain of the Ghosts last night cover to cover (if there is such a thing on the IPad). Rain is a wonderful, empowering heroine... funny, impulsive, and yet sensitive. The generational bond between 'Bastian and Rain is particularly endearing. Magical realism for all ages! ... The writing style is clear, textured and moves with alacrity and never feels like it panders to kids... beautiful and clever...the soundtrack in Rain's mind adds a filmic layer to an already visual story. I look forward to ... many returns to The Ghosts!"
— Jonathan Frakes
"Always a superb builder of new worlds and their rules of magick, Greg Weisman now serves as ferryman to the eldritch Ghost Keys, where the Bard and secrets from the past intertwine in a thrilling mystery... And characters are never what they first seem."
— Nicole Dubuc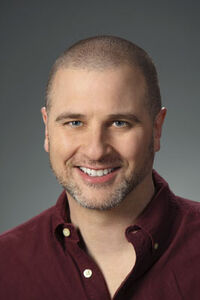 Greg Weisman is an American comic book and animation writer and producer, best known as the creator of Gargoyles and as the Supervising Producer of The Spectacular Spider-Man. Weisman is currently a producer on the Young Justice animated series. In addition, Weisman wrote the script for DC Showcase: Green Arrow, an animated short feature that is included on the DTV, Superman/Batman: Apocalypse.
Weisman is a former English composition and writing teacher and received degrees at Stanford and USC. During an interview done during Comic-Con International 2010, Weisman revealed that while 22 years old, he wrote a four issue mini-series for DC Comics starring the superheroine Black Canary. The first issue of the series was pencilled, but the project was ultimately shelved due to the character being used in writer/artist Mike Grell's high profile
Green Arrow: The Longbow Hunter
series. Elements from the ill-fated project were used for his
DC Showcase: Green Arrow
short film.
Read more >

Copyrights
Rain of the Ghosts is authored by Greg Weisman and published by St. Martin's Press, a subsidiary of the MacMillan Group, via its Griffin imprint. The Rain of the Ghosts Wiki is in no way affiliated with any of the parties, and is intended purely for non-commercial and personal use. Anyone is free to use information from this site, as long as you do not use that information by plagiarism or use it illegally in any way that infringes on the trademark. If you do copy text, it is requested that you provide a link to the website or web page. The operation of this website is believed to fall under the United States "fair use" copyright laws. This is purely a "fan site," and does not pretend to be official in any way whatsoever.
Advertising
Advertising on Wikia is sold by Wikia Inc., and is not an endorsement of the products by St. Martin's Press, Greg Weisman, the Rain of the Ghosts Wiki or its volunteers. To report an inappropriate advertisement, please contact Wikia Inc. directly using the
contact form
.